Another birthday has come and gone leaving powerful and lasting memories...
...mostly on my crotch.
Now before any of you start congratulating me, or RadarX spits coffee and runs for the edit button, get your little minds out of the GUTTER and let me explain. (Plus, point out that even though this is NOT a blog, I'm allowed a couple of off topic personal entries a year.)
I got a bike for my birthday.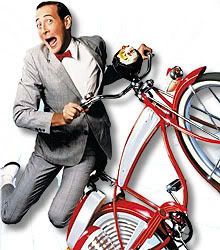 Getting up to use the bathroom at 4:45 in the morning I walked past the living room and had to stop to do a double-take. There, almost glowing as the centerpiece of the room was a bright red, wide tire, shocks and suspension havin' Schwinn Mountain Bike.
I was instantly eight again.
Bouncing around the living room and going over all of its features and attributes, I was the proverbial kid at Christmas. However, not wanting to spoil Mrs. Coyote's surprise, I forced myself to go back to bed and wait until she was awake, or at the very least, the sun was up.
Crawling back into bed, I laid there absolutely still in my mind, but I must have been radiating excitement because my loving wife rolled over and growled at me.
"Just go ride the F***ING thing!" She roared a "Happy Birthday" as she snuggled down deeper into the blankets and pulled a pillow over her head.
Who am I to argue?
Getting dressed in like a nano second I grabbed my wallet and all but flew down the steps, lightweight bike over my shoulder as I jumped down onto the pavement. This was it. I hadn't ridden a bicycle in years and I knew I'd be wobbly. Slinging a leg over the side like I did when I was a teenager, I turned on the MP3 player and kicked off like a pro.
I made it approximately three feet.
With both tires flat, the bike was less apt to move than one would expect. It seems that when the bike was being assembled the people at the bike store went with the "Looks inflated with no one on it" approach and bid Mrs. Coyote a fond adieu knowing full well that a REAL man wouldn't take it back. He'd fill the tires himself.
Throwing the mountain bike into the minivan (shut up), I quickly drove to the convenient store to buy air for my tires and EXTREME ENERGY DRINKS because that's what 33 year old guys on mountain bikes drank.
Minivan parked, energy drink consumed, and tired inflated to the proper PSI - I kicked off again and this time we had LAUNCH BABY!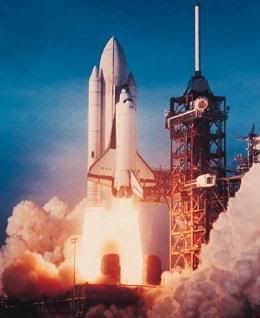 Or...at least the bike was going FORWARD. Launch isn't the proper term, but I don't know a descriptive one word term for "Wobbles unsteady forward before skidding to a halt in the neighbor's flowers that she spent all week planting." so we'll stick with launch.
Bikes are MUCH different now. Hand breaks and twisting gear shifts instead of levers and pulleys we had? Twenty-one speeds with number settings and dials, and a thing that tells you how far you went before crashing?
Whoever said "It's just like riding a bike" never let a whole ten years lapse.
But damn it, I was determined.
I LOVED riding a bike as a kid. It was my ticket to freedom. I remember zipping in and out of traffic, jumping curbs, catching air, and doing things on purpose that I was now doing on accident just trying to get ON the damn thing.
But that's okay, because I got the hang of it, and a few minutes later I'm blazing down the road like the Coyote of my youth. Jumping (Yes, jumping!) the curb, I landed with a crunch on the dirt road to the cemetery and tore past the headstones with a laugh.
It had all come back to me, and this bike was AWESOME. Sure, I don't have the lung capacity that I had as a kid - but that's why I ASKED for a bike for my birthday. I wanted to get my cardio back up and maybe recapture a bit of my youth that had slowly ebbed away over the years.
Jumping (YES! JUMPING! I KNOW!) a small ditch, I flew like the wind as the bike and I cleared the water run off and hit the well grooved walking path that old people power walk up every morning before dying in piles at the top - which in retrospect is probably why that cemetery is RIGHT THERE.
Soaring past Abigail and Trudy as I hit the top of the hill and started my high-speed decent down it, I laugh loudly and gave the finger to old age.
I was YOUNG again.
I was FREE.
I had NO idea which side was the front break and which was the back.
THIS became rapidly obvious as I tore down the hill like a bright red comet and quickly approached the sharp turn in the path that would lead me to rolling hills and pastures and away from the rocky drop off and foreboding swampy woods that loomed ahead.
A wise man would have gently squeeze both breaks in effort to slow himself down. A wise man would have remembered which of the breaks would lock up the back tire and allow him to power slide around the corner and avoid a trip to the emergency room.
And I *AM* a wise man.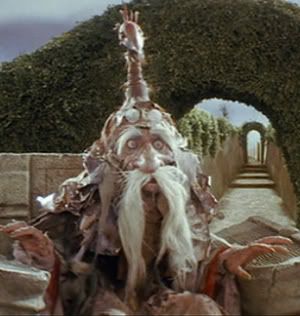 Slamming down on the rear break handle, I leaned heavily to one side as I prepared to counterbalance against the sheer force of skidding around that corner.
'Cept I hit the front break instead.
And baby. It works. It works WELL.
The bike stopped. The bike stopped instantly. Years of building a better mousetrap and all that jazz had paid off because this bike was a testament to research and design. INSTANTLY the entire bike came to a screeching halt.
I however did not.
One moment I'm recapturing my youth as a blazing bicyclist, the next I'm Superman...if Superman ever flew upside down screaming while separating himself from his shoes as Motley Crue screamed about Girls, Girls, Girls in his ears.
I'm not sure how long I laid there, but it was enough time for the two old codgers I had passed to catch up and laugh derisively as they power walked by, one of them kicking my bike as she sneered in contempt at the blood trail that more than likely lead to my corpse.
Checking myself over I was mildly shocked to find out that nothing was broken, and after I had located my shoe and removed the family of slugs that had built a condo in it - I was pretty much good to go.
Except now I didn't want to.
The bike was no longer a symbol of my youth staring back at me as it glinted crimson in the sun.
No. Now it was a demon bike who could only exist by feeding itself on the blood and soul of its rider.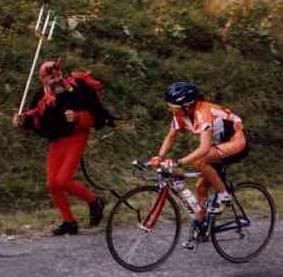 But then I remembered an old saying...
"If you fall off a bike, you get right back on as soon as you remove your shoe screaming because you missed a slug and it's now trying to mate with your big toe."
And that saying still holds true today.
Getting back on my bike, I proceeded to pass the Granny sisters yet again and make my way through some of the mountain bike trails in the woods.
I got the hang of it again, and with a bit more caution I can say that I'm actually COMFORTABLE on it once more. I rode until my lungs felt like they were going to pop, and the bike seat wedge firmly in my groin has given me saddle sore - but it's all worth it.
I'm working on my cardio, I'm recapturing something I loved as a child, and most importantly..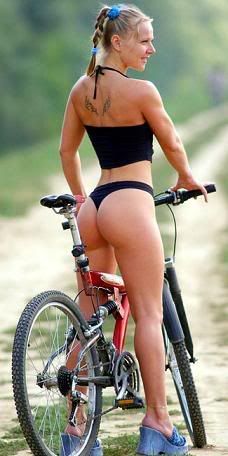 Women in spandex rock.
-Coyote
---