If you need to freshen up your choice of games on your mobile, we've got the answer for you! Forget Flappy Bird and Words with Friends, here are five of the best mobile games out there in 2015.
Sage Solitaire
Platform: Android and iOS
Zach Gage is one of the best game designers out there, as illustrated by the ridiculously good Bit Pilot and Ridiculous Fishing. Sage Solitaire is the newest in his impressive canon. Gage takes the simple single-player card game that was once a mainstay of Windows and brings it into the new millennium.
While you still find yourself facing off against a deck of 52 cards piled onto a 3x3 grid, the best bit is True Grit Mode, which allows you to wager fake money on each round. But fall into the red and you will never be permitted to play the round again – no, really!
Threes
Platform: iOS and Android
A forerunner of 2048, Threes is actually a lot harder and even more rewarding. Swipe in any direction at right angles to move on to numbered tiles on a square 4x4 grid. Unlike 2048, tiles only move a single place. And with a lack of randomness, the game requires a great deal of foresight and planning.
Hitman Go
Platform: iOS and Android
This stealth-based puzzle game resembles a board game more closely than a mobile one – and is all the better for it! Take it in turns to guide your protagonist, Agent 47, through a sea of potential witnesses.
And with every swipe, both you and the witnesses move across set tracks on the board. The challenge is to slip just out of view of Agent 47 and fulfil the hit.
Unibet Poker
Platform: iOS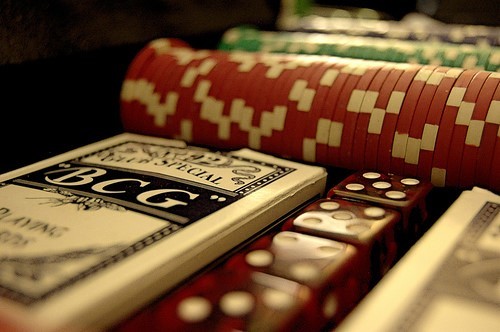 The Unibet Poker mobile app is the only real money game on this list – and what a game it is! You have the option to play for fake money or real money, while your online cashier allows you to withdraw and deposit on the go. You can also play multiple tables at once - five on the Apple iPad and four tables on the iPhone.
Unibet Poker gives you all the most popular Omaha and Hold 'em cash games, as well as sit 'n' go tournaments that you can play anywhere with a Wi-Fi signal. Get good and you can unlock the ability to change your identity and keep your rivals guessing. Meanwhile, a number of aggregate sites offer a number of attractive bonuses. Visit this site for your 50% risk free bet.
Kingdom Rush: Origins
Platform: iOS and Android
Kingdom Rush: Origins is the best – and surely the most balanced - tower defense game you are ever likely play with just your thumbs. Frustrating and thrilling in equal measure, Kingdom Rush gives you awesome graphics and the irresistible charge to kill off swathes of satisfyingly killable villains.
It also offers a wide range of special abilities and towers. If you're already a fan of tower defense games – buy this one! We would recommend buying it even if you don't usually like the genre.
---
To read the latest guides, news, and features you can visit our Miscellaneous Game Page.
Last Updated: Mar 29, 2016