Best Graphic Cards 2021
Well, a few things. Covid-19 related supply chain issues are the biggest culprit right now. The rise of cryptocurrency mining has also played a huge role in why you can't even find older video cards. 
In pure technological terms, however, the launch of the new Radeon RX 6600 XT has made things interesting, with Nvidia and AMD both making the GPU scene competitive again, there is still the spectre of Intel offering a third way, but the Intel Alchemist graphics card isn't due until early next year.
Nvidia's Ampere generation has impressed so far. The GeForce RTX 3080 and GeForce RTX 3070 are two of the best graphics cards to date, with AMD nipping at their heels with the Radeon RX 6800 XT rivaling some of the RTX 3080's stellar graphical performance at the high end. And yes, 4K gaming is very much in the PC's wheelhouse now. 
Best graphics card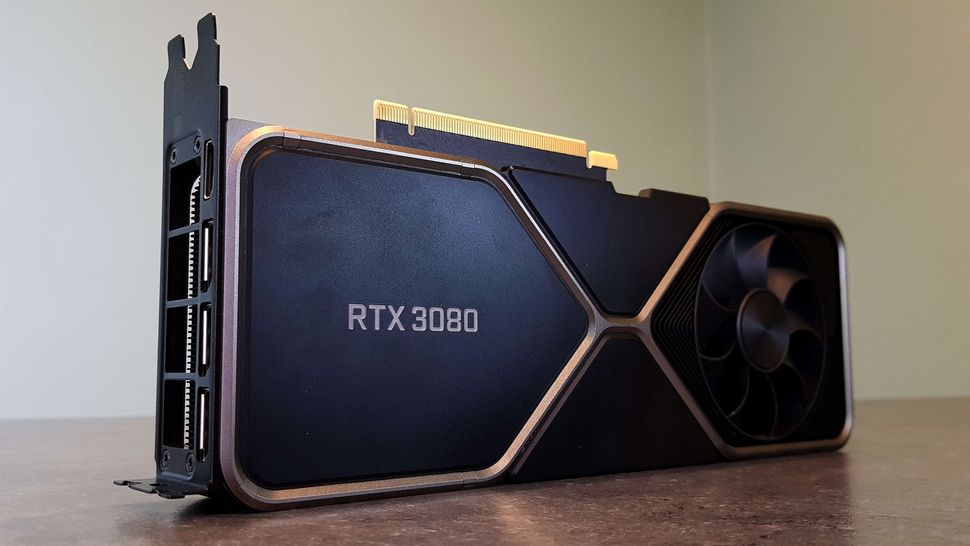 (Image credit: Future)
The best graphics card for PC gaming right now
SPECIFICATIONS
CUDA cores: 8,704
Base clock: 1,440 MHz
Boost clock: 1,710 MHz
TFLOPs: 29.76
Memory: 10GB GDDR6X
Memory clock: 19 GT/s
Memory bandwidth: 760 GB/s
REASONS TO BUY
+Incredible gen-on-gen performance+Makes 2080 Ti look mid-range+Ray tracing no longer a sacrifice
REASONS TO AVOID
-Needs a beefy PSU-In high demand
Okay, right now, the RTX 3080 is rare as pigeon eyelashes, but there is no doubt Nvidia's new RTX 3080 is the best graphics card today. It represents a huge generational performance boost over the previous RTX 20-series. That's impressive when put up against either the RTX 2080 or 2080 Super, but when you consider that this nominally $699 card can not just match but massively outperform the $1,200 RTX 2080 Ti, it really hits home.
The thing which really stands out from our testing is the difference it makes to ray-tracing performance. The first generation of ray tracing-capable cards required such a huge frame rate sacrifice that most people shied away from turning it on, but that's no longer the case with this generation. 
When you can now get ray-traced performance that exceeds the frame rates you'd get out of the top card of the RTX 20-series when running without it, you know that this is a whole different beast. And hey, the RTX 3080 can actually run Crysis.
Nvidia has managed this by adding a whole load more CUDA cores to the mix in this 8nm GPU and updated Tensor Cores (for extra DLSS goodness) and second-gen RT Cores to make with the ray-traced pretties.
The RTX 3080 may need a fair chunk more power—you'll want at least an 850W PSU—and be tricky to get hold of, but this is the most desirable graphics card around today. Which I guess is also why it's so tricky to get hold of.
Please read our full Nvidia RTX 3080 review (Founders Edition).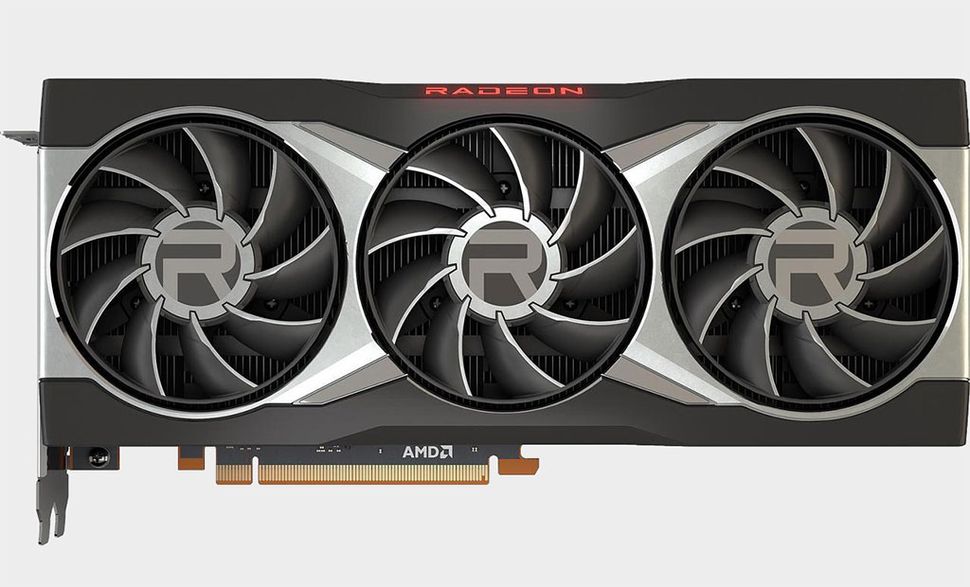 (Image credit: AMD)
AMD's RDNA 2 architecture at its best
SPECIFICATIONS
RDNA cores: 4,608
Base clock: 1,825 MHz
Boost clock: 2,250 MHz
TFLOPs: 20.74
Memory: 16 GB GDDR6
Memory clock: 16 GT/s
Memory bandwidth: 512 GB/s
REASONS TO BUY
+4K excellence+Cheaper than an RTX 3080
REASONS TO AVOID
-Moderate ray tracing performance-Slower than the 3080 at 4K
As a red team alternative to Nvidia's high-end graphics cards, there have been few finer than the RX 6800 XT. A highly competitive card that comes so close to its rival, with a nominal performance differential to the RTX 3080, is truly an enthusiast card worth consideration for any PC gamer with 4K in their sights.
It's a tough call between it and the RTX 3080, but the latter pips AMD to the post with the final touches à la RTX. The RX 6800 XT is $50 cheaper, delivers high 4K performance and a hefty VRAM increase over the RTX 3080. However, it's easy to argue that an extra $50 dropped on the RTX 3080 is money well spent: a small price to pay for greater 4K performance, much-improved ray tracing, and DLSS. All are available today and with two year's worth of developer support in the bank.
Yet we're still big fans of what AMD has managed to accomplish with the RX 6800 XT, a return to form for the Radeon Technology Group that injects some much-needed competition into the GPU market and offers a worthy red team alternative for any high-end gaming PC build.
Read our full AMD RX 6800 XT review.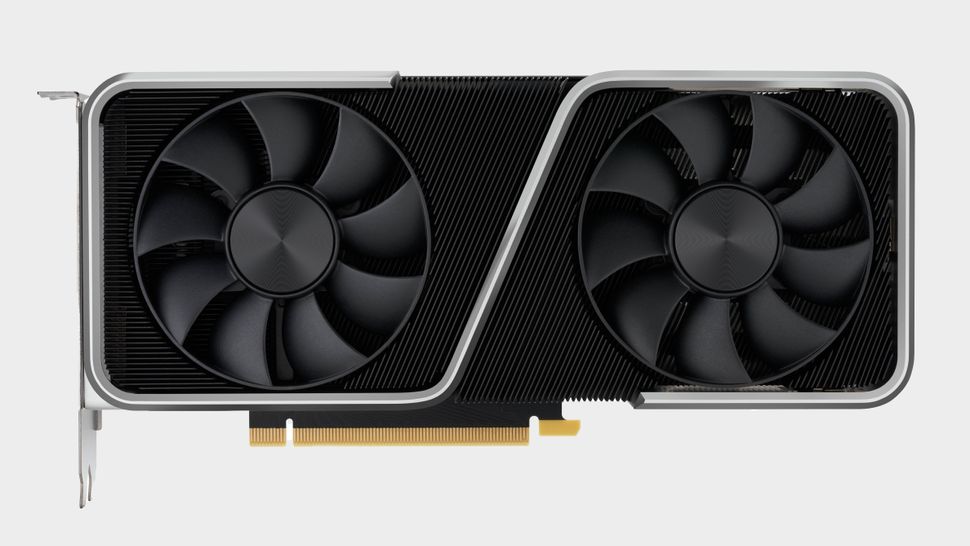 (Image credit: Nvidia)
More affordable Ampere
SPECIFICATIONS
CUDA cores: 4,864
Base clock: 1,410 MHz
Boost clock: 1,665 MHz
TFLOPs: 16.20
Memory: 8GB GDDR6
Memory clock: 14 GT/s
Memory bandwidth: 448 GB/s
REASONS TO BUY
+Finally! Something a little more affordable+2080 Super performance+Under $400
REASONS TO AVOID
-Annoying 12-pin power connector-Not quite good enough for 4K
The best value Ampere to date, the RTX 3060 Ti, is very closely related to the RTX 3070. Both utilize the same GA104 GPU (the RTX 3060 Ti has fewer SMs enabled), with the same 8GB of GDDR6 memory across a 256-bit bus.
While 17% less capable in core count, the RTX 3060 Ti makes up for it with some judicious GPU Boost frequencies. That partially explains why the RTX 3060 Ti can be within 17% to just single digits off the pace of the RTX 3070, despite operating at a silicon disadvantage. Not bad for a $399 card.
If you haven't already done the maths: At $399, the RTX 3060 Ti is 20% cheaper than the RTX 3070, so performance per dollar is on the up with the diminutive graphics card. That's why we love it so; it's a great GPU for the full stack of resolutions and has decent ray tracing capability to boot, courtesy of second-generation RT Cores.
If the RTX 3080 or RTX 3070 seem out of reach, the RTX 3060 Ti certainly makes for a decent stand-in. Perhaps most impressive of this graphics card is how it stacks up to the 20-series generation: It topples the RTX 2080 Super in nearly every test.
Please read our full Nvidia RTX 3060 Ti review (Founders Edition).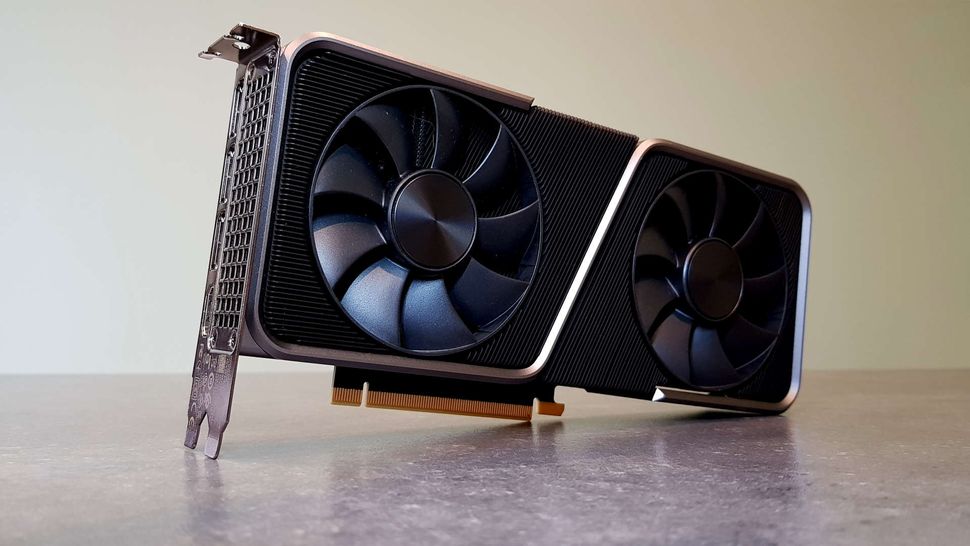 (Image credit: Future)
Finally, a reason for every 10-series gamer to upgrade
SPECIFICATIONS
CUDA cores: 5,888
Base clock: 1,500 MHz
Boost clock: 1,725 MHz
TFLOPs: 20.37
Memory: 8GB GDDR6
Memory clock: 14 GT/s
Memory bandwidth: 448 GB/s
REASONS TO BUY
+Turing-topping frame rates+Relatively low power+This FE card is smol
REASONS TO AVOID
-Annoying 12-pin power connector
Perhaps the only high-end Ampere that's anything close to reasonably affordable, the RTX 3070 is also impressive for its ability to match the top-string Turing graphics card, the RTX 2080 Ti, for less than half of its price tag.
At $499, it's still a significant sum by any means—we're talking next-gen console equivalent pricing here—but it's hardly an exorbitant sum when compared to PC gaming's top graphics silicon today. In return, you're gifted a 4K-capable graphics card that doesn't require too much fiddling to reach playable, if not high, framerates. And it'll absolutely smash it at 1440p, no question about that.
Its gaming performance credentials are undoubtedly impressive, but what makes the RTX 3070 our pick for the sensible PC gaming connoisseur is the entire Nvidia ecosystem underlying the RTX stack today. DLSS is a neat trick for improving performance, with only a nominal loss in clarity, and other features such as Broadcast and Reflex go a long way to sweetening the deal.
Please read our full Nvidia RTX 3070 review (Founders Edition).
Best CPU for gaming | Best DDR4 RAM | Best gaming motherboards
Best SSD for gaming | Best gaming laptop | Best gaming monitors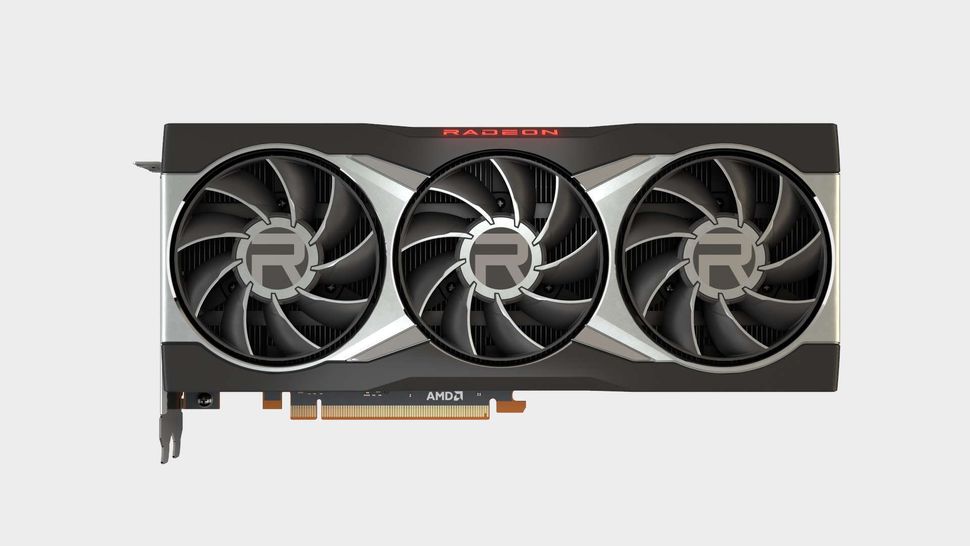 (Image credit: AMD)
If you've money to burn...
SPECIFICATIONS
RDNA cores: 5,120
Base clock: 1,825 MHz
Boost clock: 2,250 MHz
TFLOPs: 23.04
Memory: 16GB GDDR6
Memory clock: 16 GT/s
Memory bandwidth: 512 GB/s
REASONS TO BUY
+Occasional RTX 3090 performance…+...but cheaper!
REASONS TO AVOID
-Can lag behind RTX 3080 at times-Mediocre ray-tracing performance
The RTX 3090 may have sat unchallenged at the top rungs of graphics performance at launch, but it wouldn't be long until AMD rustled together a challenger in the RX 6900 XT, or 'Big Navi.' The RX 6900 XT hopes to knock Ampere's finest from its perch on high and send it spiraling back down to Earth. And it gets kind of close, too, with 4K performance a little off the pace of the RTX 3090—and all for one-third off the asking price.
For that reason, it's simply the better buy for any PC gamer without any ulterior motives of the pro-creator variety. But there's a reason it's not number one in our graphics card guide today, and that's simply due to the fact it's not that much better than an RTX 3080, and sometimes not at all. It's another $300 on top of the RTX 3080's price tag, and you'd hope for higher performance in both rasterized and ray tracing workloads. Yet, inevitably its ray-tracing acceleration lags behind the competition.
But the RX 6900 XT does come with assurances that the RTX 3080 can't make, such as its 16GB of GDDR6 memory, which is a whole 6GB greater than the 10GB of (faster) GDDR6X memory on the green team card. With that in mind, for raw gaming alone, the RX 6900 XT is a cheaper alternative to the RTX 3090 is still a victim to its own extreme price tag.
Read our full AMD RX 6900 XT review.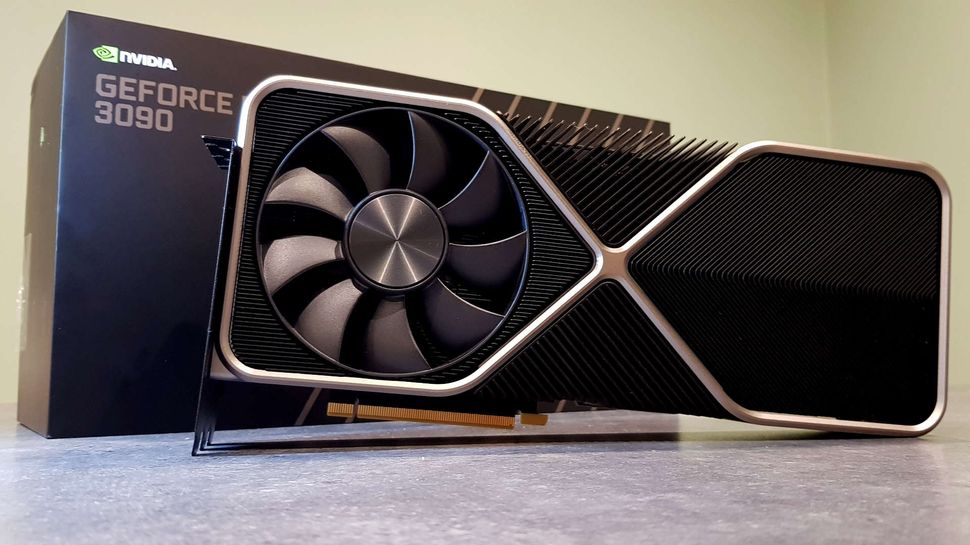 (Image credit: Future)
For the pro-creators, not the gamers
SPECIFICATIONS
CUDA cores: 10,496
Base clock: 1,395 MHz
Boost clock: 1,695 MHz
TFLOPs: 35.68
Memory: 24GB GDDR6X
Memory clock: 19.5 GT/s
Memory bandwidth: 935.8 GB/s
REASONS TO BUY
+Confidently top of charts+Massive memory buffer
REASONS TO AVOID
-Not really for gamers-RTX 3080 isn't far behind
This colossal graphics card is supremely powerful but far more fitting of Titan credentials than GeForce ones. It's not built with your average gamer in mind. Instead, it's targeting creative professionals and compute-intensive application acceleration, and that's why it doesn't come with your average price tag, either.
As immense in price tag as it is in stature, the question on everyone's lips is: Is it worth it? For gamers, no. It's just not much quicker than the RTX 3080. But for pro-creators, for whom time is money and where lower render time has a direct correlation with how much they can earn, that's where the RTX 3090 comes into its own.
It's for that reason that we've placed this card near the bottom of our list, but since we know PC gamers will undoubtedly spend ungodly quantities of cash to save face and ensure bragging rights, it's still worth a mention. After all, it is the most powerful gaming graphics card on the planet right now, whether it's a great deal or not.
Please read our full Nvidia RTX 3090 review (Founders Edition).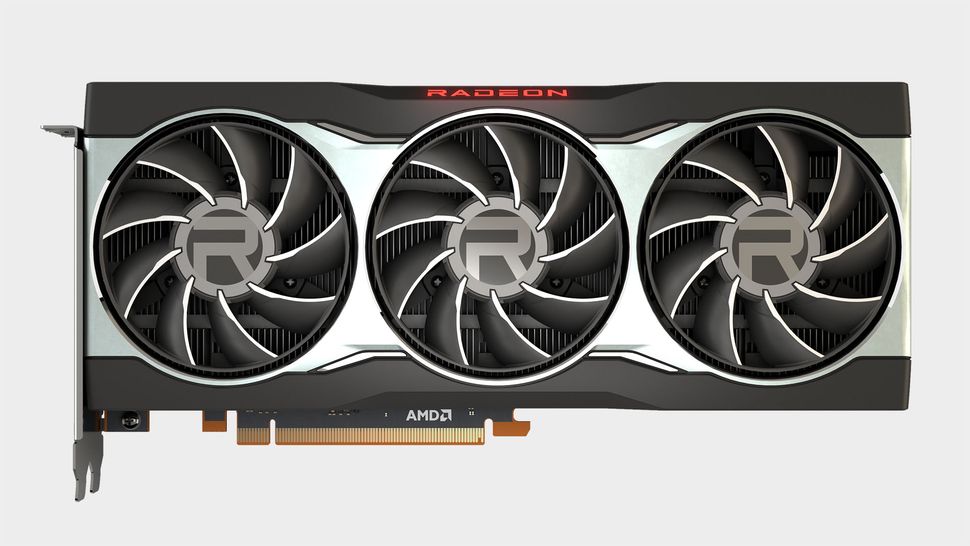 (Image credit: AMD)
Third-tier RDNA 2 feels cut adrift
SPECIFICATIONS
RDNA cores: 3,840
Base clock: 1,700 MHz
Boost clock: 2,105 MHz
TFLOPs: 16.17
Memory: 16GB GDDR6
Memory clock: 16 GT/s
Memory bandwidth: 512 GB/s
REASONS TO BUY
+Stellar 1440p card+Often outperforms cheaper RTX 3070
REASONS TO AVOID
-Doesn't compare well to the RTX 3070-Unexciting ray-tracing performance
As the only one of the AMD RX 6000-series cards to launch without undercutting a direct Nvidia Ampere rival, the straight RX 6800 feels as though it's almost been cut adrift. It's a strange situation because historically, we've always been keen to recommend the second string of any Radeon release. AMD tends to launch main series cards in pairs, one with the full might of the new GPU and a secondary card with a slightly stripped back chip.
YOUR NEXT MACHINE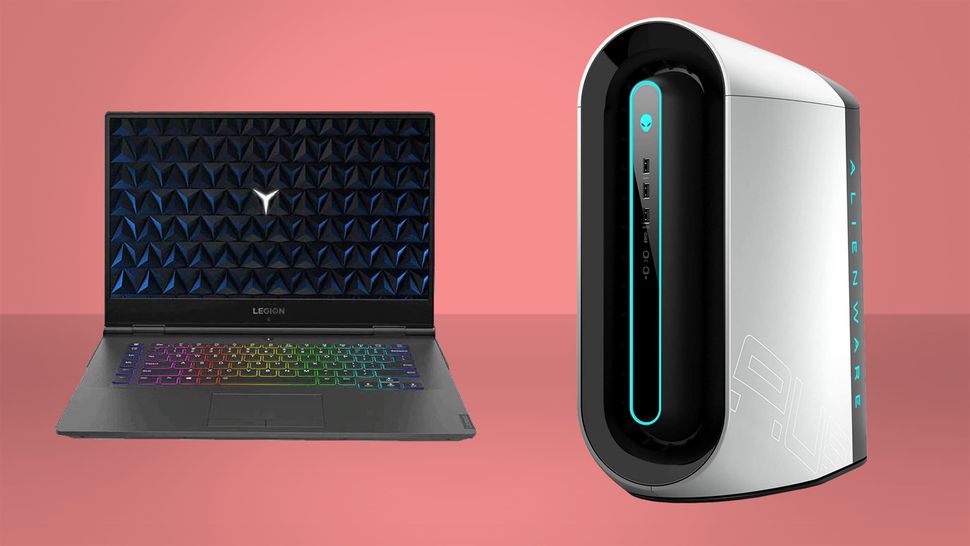 (Image credit: Future)
Best gaming PC: the top pre-built machines from the pros
Best gaming laptop: perfect notebooks for mobile gaming
Normally they perform at a similar level for a lot less cash. Except for this time, the performance gap is relatively large, and the price difference is not great enough to negate the issue. You've also got the RTX 3070 is priced $80 lower than this RX 6800 card. Sure, the RX 6800 does sometimes outperform the cheaper Nvidia card, but for the money, you'd surely want the only marginally more expensive RX 6800 XT because it's much faster. If I spent this much cash on a new GPU, the extra $70 would absolutely feel worth it.
The RTX 3070 also offers Nvidia's broad gaming ecosystem and, while ray tracing can be seen as a luxury, DLSS is an excellent performance-boosting feature still not matched by AMD. But it does have to be said; the RX 6800 is still a mighty impressive card outside of the ramifications of its place in the stack. This thing makes the $1,200 RTX 2080 Ti look bad.
Read our full AMD RX 6800 review.
Graphics cards buying advice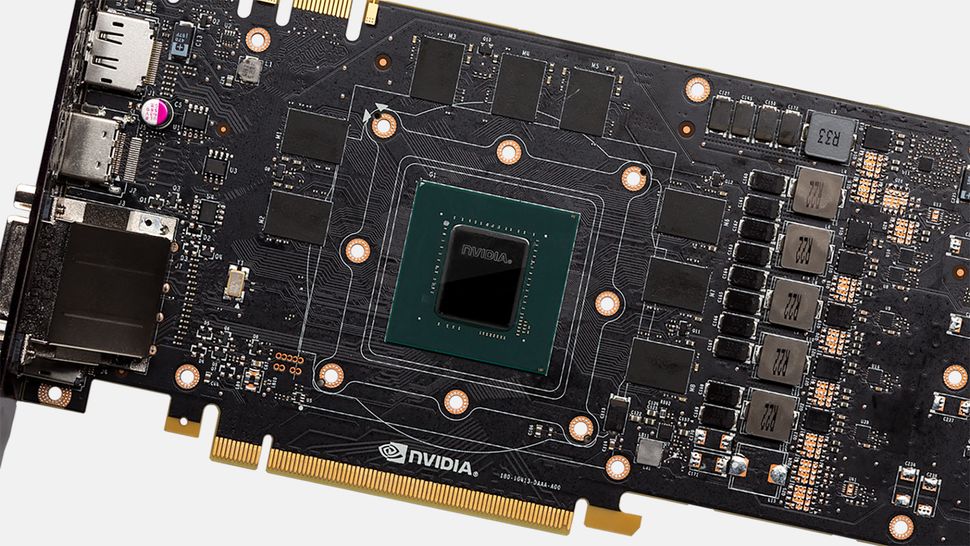 How can I buy a graphics card in the GPU drought?
You could attempt to manually refresh every store page in the hopes of striking gold on the next restock; that's one way to go about it. Or, you could sign up for a trusty app that goes about trawling major retailers for you. It's not a bot that tries to snap up stock the wrong way; it just does the refreshing, so you don't have to.
We've had success with the app HotStock in the UK, and sites such as Stock Informer offer a similar service in the US, although we've not used this service to score stock personally.
Similarly, you can find plenty of free Discord servers with dedicated stock alert bots and eagle-eyed community members, such as the popular StockDrops server. 
And don't forget Twitch streams. Those dedicated to finding your stock will often fire out a deafening klaxon the moment stock appears. We recommend checking out Falcodrin on Twitch for Nvidia GPUs, but there are plenty of kind souls out there offering a similar service.
Is there an easy way to get a new graphics card?
It's not for everyone, but the best way to ensure you'll receive a graphics card this year, and a modern one at something close to MSRP, is to buy a prebuilt gaming PC. It's a worthy consideration if you're considering a total rebuild at some point in the future, at least. System builders appear to enjoy a more stable supply of graphics cards, and while some still expect delays, you are at least guaranteed a PC with GPU in situ eventually.
Is GTX better than RTX?
The older GTX prefix is now used to denote older Nvidia graphics cards which don't have the extra AI and ray tracing silicon that the RTX-level cards do. This RTX prefix was introduced three years ago with the RTX 20-series, and highlights which cards have GPUs which sport both the Tensor Cores and RT Cores necessary for real-time ray tracing and Deep Learning Super Sampling.
Is ray tracing only for RTX cards?
The RTX prefix is only used to denote cards which house Nvidia GPUs with dedicated ray tracing hardware, but they are still using the same DirectX Raytracing API Microsoft has created, and which is used by AMD's RDNA 2 GPUs. These AMD GPUs are able to suport real-time ray tracing, though with a higher performance impact than on Nvidia's GPUs.
Intel's upcoming Xe-HPG GPUs, with the Alchemist graphics cards first to use them, will also support ray tracing using Microsoft's DirectX Raytracing API when they launch early next year, too.
Is SLI or CrossFire still a thing?
If you're looking for maximum performance, you used to run two cards in SLI or CrossFire. However, it's become increasingly common for major games to ignore multi-GPU users completely. That includes all DXR games. There's also the fact that fewer of the next-gen cards actually support the linking of two cards. On the Nvidia side, only the $1,500 RTX 3090 comes with NVLink connections, only for creative apps.
So, no. It's not a thing.
Do I need a 4K capable graphics card?
The obvious answer is: Only if you have a 4K gaming monitor. But there are other things to consider here, such as what kinds of games do you play? If frame rates are absolutely king for you, and you're into ultra-competitive shooters, then you want to be aiming for super high fps figures. And, right now, you're better placed to do that at either 1440p or 1080p resolutions.
That said, the more games, such as CoD: Warzone that incorporates DLSS, the more Nvidia cards will be capable of making a close appro
---
To read the latest guides, news, and features you can visit our Other Game Page.
Last Updated: Aug 30, 2021