I'm not a fan of mobile games. The controls are awkward, the graphics are bad, I hate holding my phone so I can game, and it eats my battery life. I've dabbled in a few games, but they're exeptions rather than rules. The mobile games I've gotten into is a very short list: World of Goo, Plants vs Zombies, and most recently, Goat Simulator. Goat Simulator doesn't really count, though, because I was already sold on the game before it became available for Android and iOS. I already fell in love with it from owning it through Steam (PS, a new DLC is available Thursday for MMO play). However, after I last wrote about Celtic Heroes, I ended up downloading the Android client for the game, because the screenshots and the video were just so damn pretty. I was convinced that there's no way that was actual gameplay, but I really hoped what I saw was reality. To my very pleasant surprise, the game really is that gorgeous. I haven't logged in a ton of hours into it, but what I've played so far has been pretty enjoyable.
The iOS client is about to be upgraded to One Thumb Mobile's custom Destiny Engine, which is built on top of Unity Mobile, which is what the Android client currently is. If you've been playing the current version on your Apple device, I'm pretty stoked for you when this is pushed live. Along with this update comes a revamped tutorial area that's been improved, which takes place in a new area. If you're in the iOS beta for the engine update, you'll also get to preview some of the festivities for the upcoming Yule Event. The Yule Event, as well as the iOS update to the Destiny Engine – which will include a complete graphics overhaul – will be available in December. If I had an iOS device, I'd do what I could to beg my way into beta. I'll just have to settle for the Destiny Engine already happening on the Android client, while waiting patiently for the Yule update to hit!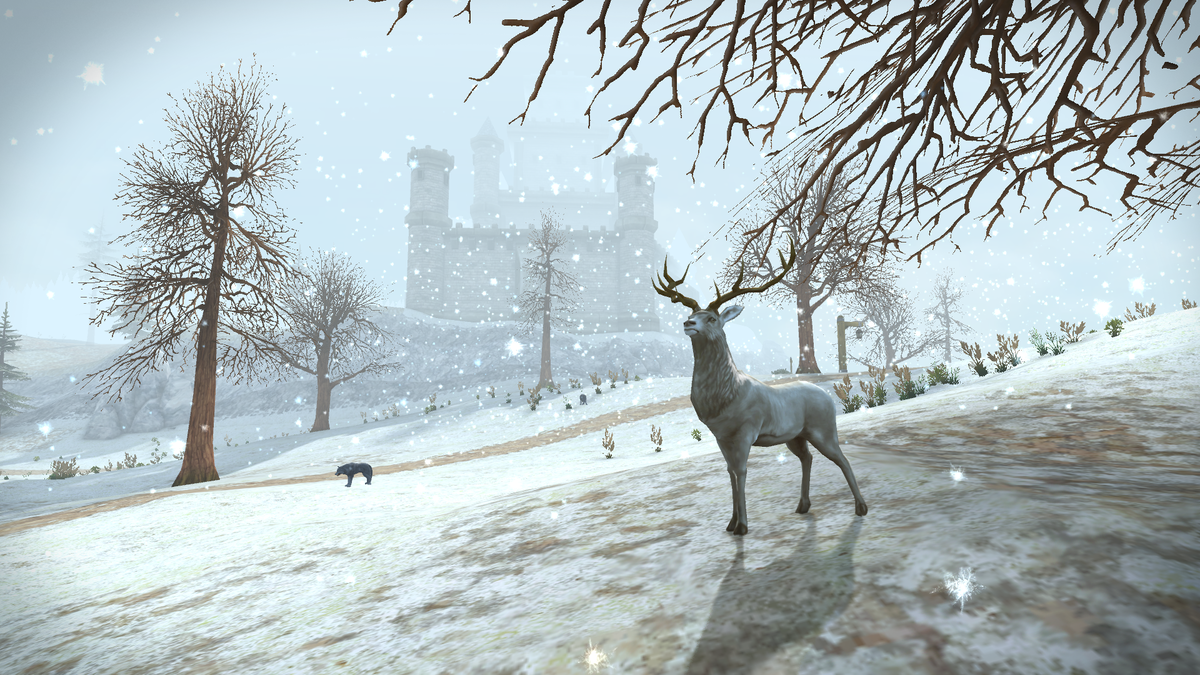 As for the Yule update, it comes fully featured, including new virtual snow for the game. For a sneak peak on what else will be in the Yule update, here's a brief run down on what will be in the patch notes:
Defeat Monolith's of the Maelstrom for impressive, cold-dealing Frostiron weapons or Frostiron rings and bracelets designed to enhance each class.
Visit Kennis of the Snow in Farcrag Castle to take the top hat quest chain and hunt for presents across the zones, with a fantastic selection of ten hats to collect–and the chance of rare star dust varieties every time you hand the quest in.
Eight festive crackers have been hidden across the zones which can be sold for up to 50,000 gold.
Take part in the daily quest to fight the powerful minions of Taranis. Jack Frost instructs you to find your enemies in Lir's Reach, Fingal's Cave or Carrowmore Tunnels as you quest for experience to help upgrade and enhance your character.
Eight brand new mounts can be purchased from Dolina of Glenmor. Each boosts your movement but the greater ones do health and energy regeneration and the very best have special attacks designed specifically for them.
Meet Serena of the Ice in Farcrag Castle. Battle grim sprites across the land to gather Winterheart crystals for her and hand them in to get one of twenty Winterstaves.
Of course, anyone with access to the iOS beta client will not have the full update. Y'all will have to wait with the rest of us until the Yule update hits in December. Celtic Heroes is free-to-play and available now on both the Google Play and Apples iTunes stores. For more information, check out the official website.
---
To read the latest guides, news, and features you can visit our Celtic Heroes Game Page.
Last Updated: Mar 13, 2016