This year, I moved back to my hometown of Gainesville, Florida, and shortly after I found out through Reddit that University of Florida's Gator Gaming would be hosting what has become one of the largest gaming events in Florida. Unfortunately, I was not able to stay for the entire event, due to poor snack planning on my part. Hopefully I'll be able to attend next year, and if I do, I'll make sure to be better at planning! The members of Gator Gaming themselves were all totally pro and knew how to throw a good party. Next year I'll be far less of a newb and I'll know how to throw down far better than I did this year. Overall, it was a blast and I'm glad that I lasted as long as I did! Next year: more snacks.
Pretty awesome list of sponsors for something happening in my hometown!
One more disclaimer that I'll throw in is that esports and fighting games are not my forte. I don't really know what I'm doing in them. I've played League of Legends casually and fellow Ten Ton Hammer staff member Kevin Christopher wants me to join his Smite team (hey, it's finally downloaded and installed, okay?!?!), but I don't really get my MOBA on, either. That's not to say that I dislike PvP, because quite the opposite is true, really. All I wanted to do in Warhammer was punch face (what I'd say to my friends to get them to come run battlegrounds with me), my favorite part of leveling in WildStar was the PvP, and there have been times in World of Warcraft where team PvP (both battlegrounds and arenas) was all I did.
At one point, though, I did start live tweeting the Ultimate Street Fighter finals. While it's one more thing I had no idea what I was doing (both not familiar with anything past Street Fighter II and casting), it was one more thing I tried and had a great time doing. I'm sure anyone who follows me on Twitter for any reason besides gaming might have been really annoyed, but I just couldn't help myself. I had a great time, learned quite a bit about so many things, met some really, really rad folks who are super passionate about gaming, and took tons of photos! I'm going to have to bug someone around here for a Ten Ton Hammer shirt so I look less like an anonymous bum next time. Anyway, let's get on with it! Here we go with the full images and commentary of GatorLAN 2014.
I wanted to get there early and watch the set up process, as well as talk to the folks with Gator Gaming to learn more about both them and their organization. Gator Gaming has been around since 2009, and while their first GatorLAN might have had just a few folks show up to compete, in five short years it has grown to the point where the event can no longer fit inside the Reitz Union, where GatorLAN is hosted on campus at the University of Florida. They ended up with over 200 people signing up for competitions, and at certain points, had to turn people away. Both the Smash Bros and Project M comps were capped. There might have been more people showing up for Hearthstone, but because would-be competitors failed to attend qualifying rounds, they were disqualified.  
This is the Art Corner setting up, where folks could come over and create some hands-on crafts out of pearler beads, stamps and foam. Gator Gaming set up an area that's completely gaming related, where people who weren't at the event to play games could still have a fun, hands-on experience.
Next to the Art Corner was a designated Free Play area, where people could hang out and play all sorts of classic console games. Super NES wasn't the only one around, as there were also an original Nintendo, a Sega Genesis and probably a few others that I failed to notice.
The Grand Ballroom at the Reitz Union might not look like much now, but in a few hours from when this photo was taken, it would end up being completely packed full of people to the point where  navigating through the crowd could be tricky at times!
Later in the day, this area becomes the focus, since semi and grand finals happen right on stage, while Gator Gaming casters livestream to their Twitch channel.
Smash Bros is kind of a big deal around here, and here are some Gator Gaming folks making sure the game works right.
I pretty much took this picture to make all of my networking and sys admin friends a little twitchy. Sorry not sorry for the trolls, guys.
The closer it got to noon, the more frantic staff became, making sure everything got set up correctly.
And so it begins. Players participating in League of Legends and Dota 2 competitions are starting to bring in their gear. I can't remember the last time I saw a full-sized tower and here that's mostly what I saw. I did see someone playing League on a Macbook Air, though!
Dota 2 players getting set up.
Arts + Crafts + Games = a whole lot of awesome!
Do-it-yourself foam crafts.
I couldn't resist taking a photo of this. While there wasn't a painting area set up, the Mario Lisa (my name of the painting) was pretty spectactular. Gator Gaming has some talented artists!
Pearler bead example set up at the crafting station.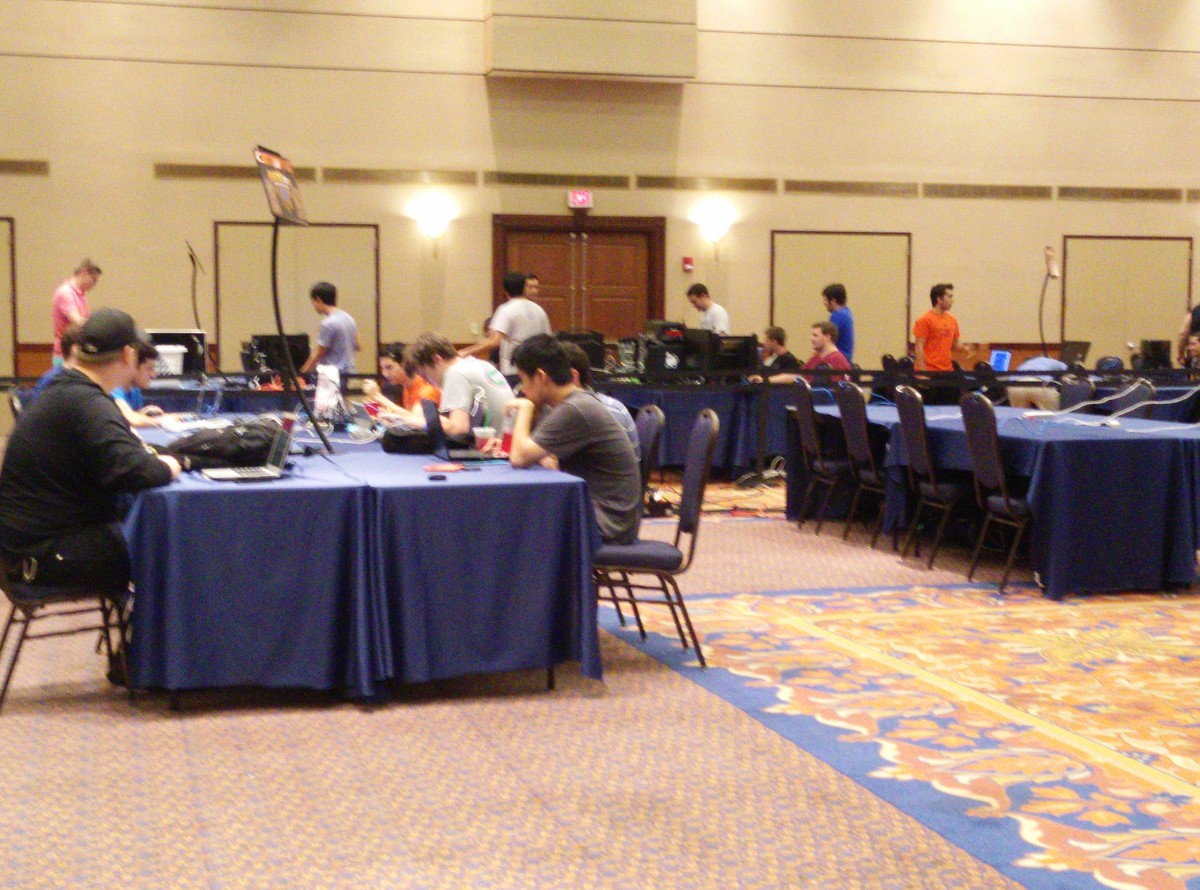 I took this picture because the contrast between Hearthstone players on laptops and the League of Legends players with their full towers in the background amused me.
Things are getting serious in the MOBA section (League in the foreground; Dota 2 in the background). One guy brought his gear in inside a laundry basket, which was super practical, but I got a nice giggle out of it. Another player, in the Hearthstone area, showed up with what looked like a loaf of homemade banana bread, still in the pan. I bet that guy didn't have to duck out early due to lack of snacks.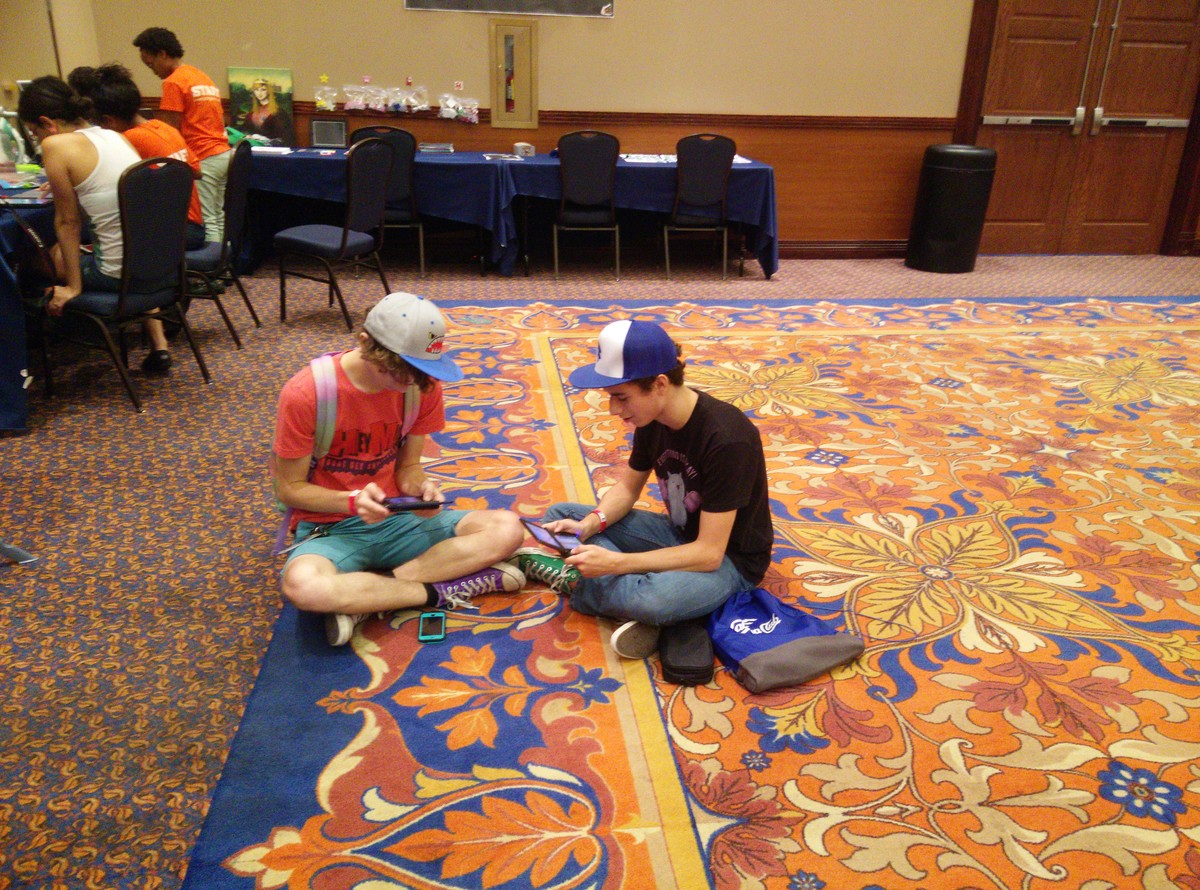 At first, there were only two. Soon enough, though, there would be crowds of folks huddled around, playing their Nintendo 3DSes in all corners of the Reitz Union.
I felt pretty silly not knowing that Trendy Entertainment, the makers of Dungeon Defenders (a game a few of us streamed on Ten Ton Twitch not too long ago), were from my home town. They set up a few stations so folks could have a chance to preview Dungeon Defenders II!
Here's Gator Gaming's webmaster setting up Dance Dance Revolution. I wish I could have seen these two go against one another, since they were by far the best I've seen. I didn't get video of the guy on the left, but my video (below) has the guy from Gator Gaming showing his stuff.
This might not look like much now, but Gator Gaming and some eager participants are waiting as the officially sponsored Mario Kart booth gets set up. GatorLAN had Nintendo's Representative of the entire south east show up to talk about Nintendo, Mario Kart and to hand out goodies!
The Art Corner ended up with a Mario Kart set up, as well.
Crafting, in real life.
At this point, all of the tables were filling up rapidly. Except the Pokemon table. The loneliest table.
Here at the fighting table is where the preliminary rounds for Ultimate Street Fighter happened. I didn't watch the qualifiers, but the semi and grand finals ended up being one of my favorite parts of GatorLAN 2014. I enjoyed it so much I was live tweeting most of the final rounds.
Full disclosure: I had never heard of Project M before I attended GatorLAN. I ended up leaving during the Project M bracket race because I had no idea what was happening. Also, lack of snacks. I really needed some actual food at that point.
I got to try out the first map in Dungeon Defenders II! When I signed up for a free play session, I was told that the only character left for the earliest available timeslot was the Monk, who is one of the hardest unlocked classes to play in the original Dungeon Defenders. Instead of being discouraged, I excitedly proclaimed that the Monk is the only character I've played in the first Dungeon Defenders. I tried not to bore anyone too much about how I was pretty terrible at it when we streamed it on the Ten Ton Hammer Twitch channel, but I did let them know we had a lot of fun playing it. I will say this about Dungeon Defenders II: similar premise, still fun to play, and the art work is stellar.
Hosts Primary Lotus and Rambo casting the day away.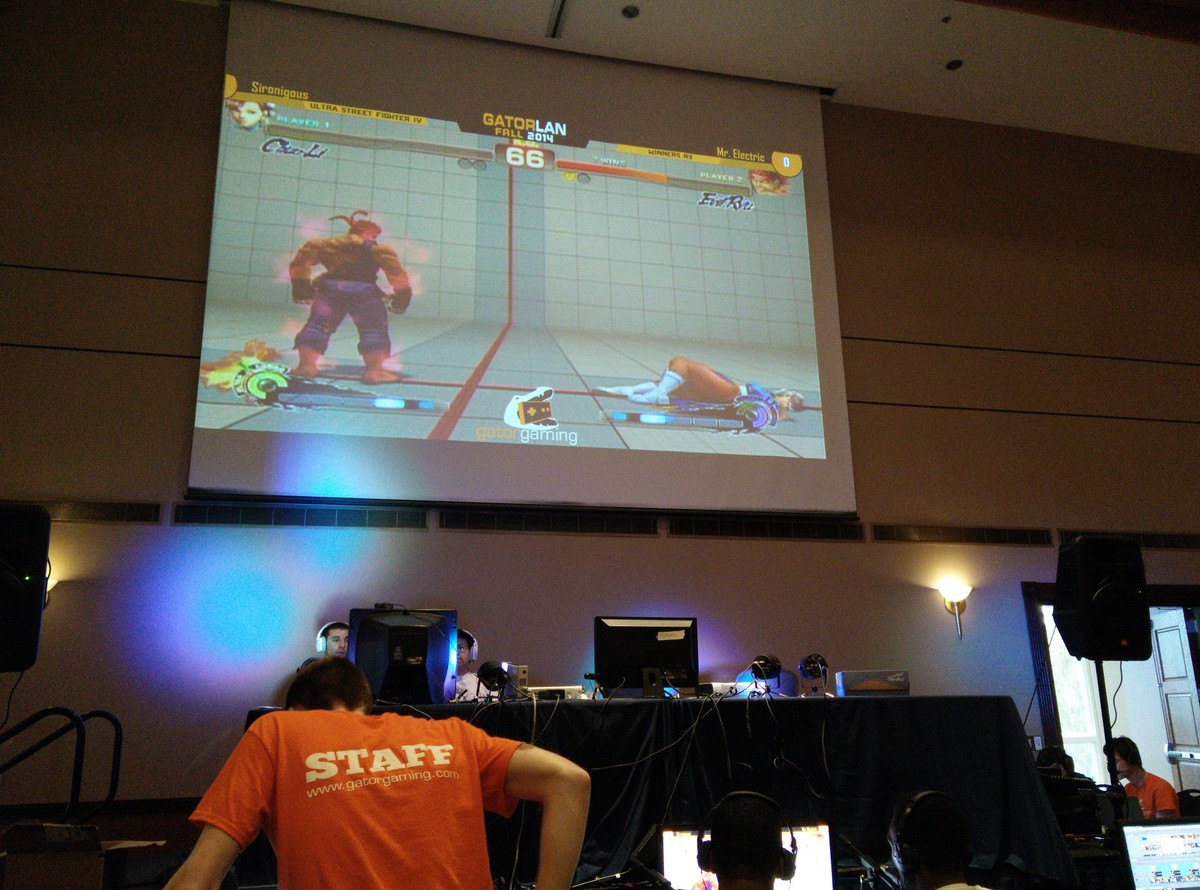 My two highlights (besides laundry basket dude and bread guy) were Dungeon Defenders II and watching the Ultimate Street Fighter finals.
Mario Kart at the Nintendo booth.
This was probably the biggest bummer I encountered at GatorLAN. A guy in a pro-gaming jersey (which was more like a cycling shirt for some reason) pushed me out of the way and barreled through the crowd shouting at the tournament host right after I took this picture. He showed up late and somehow got a spot. Whether or not he was affiliated with the team doesn't matter. Don't act that way. Don't be a dick. If you're reading this and that was you: you only embarass yourself, your team and gaming as a whole with that behavior. Take a hint from your title, "pro-gamer." That means professional gamer, so act professional. I'll repeat myself here and just say, don't be a dick.
You guys, JOX in a BOX is the best gamer tag ever.
JOX in a BOX and Brian F gearing up for the losers finals.
Winners versus losers for the Grand Finals. Both Brian F and Mr Electric both played Evil Ryu in their respective semi-finals. I was hoping for an Evil Ryu versus Evil Ryu standoff. While Mr Electic started off playing Evil Ryu, he switched and then we had a Grand Final of zero Ryus.
My recap of the Ultimate Street Fighter finals went something like this on Twitter:
Evil Ryu v Chun Li, round 2
Evil Ryu 2-0 so far
Chun-Li didn't stand a chance.
Different Evil Ryu this time v Akuma. Looks like another sweep.
Just kidding...what a comeback.
Into USF semis, Evil Ryu still winning everything.
Somehow, after T.Hawk ended up wearing hot pink, Evil Ryu couldn't keep winning #HotPinkConspiracy #GatorLAN2014
Other Evil Ryu is back. I wonder how his second tourney will fair.
USF Loser Finals = Evil Ryu back to dominating everything.
T.Hawk is back, not pink, beating Evil Ryu. Rinse, repeat.
Final round for USF Losers Finals. Brian F with Evil Ryu and JOX in a BOX playing T.Hawk. I think T needs more pink to win this.
Both Evil Ryus are on stage now. Will it be Evil Ryu v Evil Ryu for the final bout?
Kind of disappointed that it ended up being Evil Ryu v Balrog. Mr Electric is on Ryu, so I'm wondering if Brian F lost a coin toss.
Mr Electric switching it up for the USF Grand Finals by switching to Guy. Now there are zero Evil Ryus.
Mr Electric has switched to Akuma, Brian F sticking with Balrog in the USF Grand Finals. Balrog is wrecking house.
Man, Akuma got close that time, but Balrog just keeps redecorating the walls with blood.
In the end, Brian F (from the Losers bracket) won the Grand Finals with Balrog. I never got into playing Street Fighter growing up, but I sure did watch a ton of it over the years. It was a great deal of fun to watch.
Dungeon Defenders II also had a tournament that they put on, where players could play on a more advanced map than what free players like myself played.
The Project M tournament resumed, with the brackets starting out with sixteen players each and whittling down to one champion. Unfortunately, I was unable to stay until the end to see who won.
Project M was crazy popular, far more than Ultimate Street Fighter. The center area where the finals were projected was packed with people watching the final fights.
The Nintendo WiiU Mario Kart set up originally on the projector, but was then moved over to a giant TV for folks to play on. I don't have footage of that, because people were standing right in front of the TV, so my short self couldn't see anything.
This poor guy got all LANed out way before I did.
Devs from Trendy Entertainment were on hand to collect feedback for Dungeon Defenders II the whole time.
Ten minute warning for free loot! In addition to the raffles Gator Gaming were hosting, Trendy Entertainment hosted raffles with Dungeon Defenders II loot and sweet peripherals from Razer.
While we were all waiting to see who won free loot, DDR was the best thing to watch. I was extremely impressed by how talented some of these players were. 
Trendy got a huge crowd draw. Who doesn't like free stuff?
Speaking of free stuff and crowd draws, after all the Dungeon Defenders II raffles were done, Gator Gaming had a raffle for a laptop cooler. People mobbed the area.
My final image of GatorLAN 2014, as the hosts try to find a ticket to match a winner. At this point, folks had left and not everyone held onto their tickets, so it took a few tries before they could get a winner.
Overall, GatorLAN 2014 was a blast. Most of these games are not games I play, and a few of them I knew very little about. I didn't get to follow the Hearthstone, Dota 2, or League of Legends tournaments. When I would wander around the areas, I couldn't figure out what was going on, so I kept going back to the areas where I could get it. I would have liked to have seen more women competing. Hopefully we'll see that next year when I have a better idea of what's going on and I'm better prepared to deal with a long day of nutritional needs! Thanks for reading along and checking out something that's really awesome, happening four miles away from me in my home town. Got something awesome in yours? Let us know what's going on!
---
PS, happy birthday to Diamond and Dominic Overstreet, Gator Gaming's Project Manager and Technical Director! The twins celebrated a birthday by throwing one of the biggest LAN parties in Florida!
---
To read the latest guides, news, and features you can visit our Dota 2 Game Page.
Last Updated: Mar 13, 2016